Textile Exam Microscopes for AATCC 20 and AATCC 20A Methods
There are two methods for textile examination (AATCC 20 and AATCC 20A) requiring the use of a compound microscope with polarized light. The Association of Textile, Apparel, and Materials Professionals lists all test methods
here
.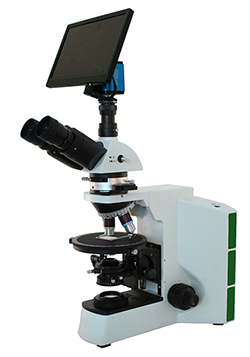 AATCC 20 and AATCC 20A methods require use of a compound microscope that utilizes polarized light with magnification of 100x-500x.
Test Method AATCC 20 is a qualitative fiber analysis test.
Test Method AATCC 20A is a quantitative fiber analysis test.
The textile examination microscope shown at left was created to meet all standards required by method AATCC 20 and AATCC 20A. In addition, this textile exam microscope has a high definition microscope camera and HD monitor for viewing live images and capturing and saving images as well as making measurements. Documentation is simple with the option for image capture directly to a SD memory card.
The textile examination microscope includes:
Gypsum λ full wave plate
Mica 1/4 λ wave plate
Polarizer and Analyzer
Infinity Corrected Optics
Stress Free Plan Achromat 4x, 10x, 40x, 60x objective lenses
Mechanical Stage
HD camera and 12" HD monitor
The AATCC 20 and AATCC 20A Textile Exam Microscope can be purchased here.