ZEISS Microscope Camera Information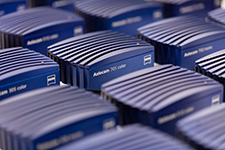 Which ZEISS microscope camera is best for my application?
Choosing the right camera for your microscopy application may seem like a daunting task with so many options. High contrast resolution, good sensitivity and dynamic performance, and good read out speeds are essential for most users. This overview of the ZEISS Axiocam product line can help you make the best choice for your microscopy work.
View a downloadable PDF document covering all the ZEISS Axiocam cameras along with info on camera technology and technical data.

ZEISS Cameras for Routine or Teaching Applications
ZEISS CAMERA

Recommended Uses

Features

Digital Interface

ZEISS Axiocam 105 R2

Education / Teaching
Routine Tasks
Industrial Work
Quality Assurance
Quality Control
Materials Testing

5mp CMOS Sensor
2.2µm Pixel Size
Color

USB3 connection to computer

ZEISS Axiocam 202 mono

Documentation
Education / Teaching
Routine Tasks
Fluorescence Applications w/ Cell Cultures

2mp CMOS Sensor
5.86µm Pixel Size
Monochrome

Store images on USB Flash Drive
Connect to monitor via HDMI cable
USB3 connection to computer

ZEISS Axiocam 208 color

Documentation
Education / Teaching
Routine Tasks
Materials Research
Quality Control
Quality Assurance

8mp CMOS Sensor
1.85µm Pixel Size
Color

Store images on USB Flash Drive
Connect to monitor via HDMI cable
Optional WiFi Adapter Connection with Labscope
Ethernet
USB3 connection to computer

ZEISS Axiocam 305 Color

Documentation
Education / Teaching
Routine Tasks
Materials Research
Quality Control
Quality Assurance

5mp CMOS Sensor
3.45µm Pixel Size
Color

USB3 connection to computer

ZEISS High End Color Cameras
ZEISS CAMERA

Recommended Uses

Features

Digital Interface

ZEISS Axiocam 705 Color

Histology / Pathology Sample Analysis
Semiconductor Inspection
Materials Research

5mp CMOS Sensor
3.45µm Pixel Size
Color or Monochrome Imaging
62fps at full 5mp resolution

USB3 connection to computer

ZEISS Axiocam 712 Color

Histology / Pathology Sample Analysis
Semiconductor Inspection
Materials Research
Quality Control

12mp CMOS Sensor
1.85µm Pixel Size
Color or Monochrome Imaging
20fps at full 12mp resolution

USB3 connection to computer

ZEISS Axiocam 807 Color

Histology / Pathology Sample Analysis
Semiconductor Inspection
Quality Control
Large Samples

7.1mp CMOS Sensor
4.5µm Pixel Size
Color or Monochrome Imaging

USB3 connection to computer

ZEISS Axiocam 820 color

Histology / Pathology Sample Analysis
Semiconductor Inspection
Quality Control
Large Samples

20mp CMOS Sensor
2.74µm Pixel Size
Color or Monochrome Imaging

USB3 connection to computer

ZEISS Axiocam 705 POL
(Sample Analysis with
polarized light)

Live Cell Imaging
Fluorescence Imaging
Analysis of Dim Samples
Semiconductor Inspection

5mp CMOS Sensor
6.9µm Pixel Size due to polarization filter
Monochrome with on chip polarization filter

USB3 connection to computer

ZEISS High End Fluorescence (Monochrome) Cameras
ZEISS CAMERA

Recommended Uses

Features

Digital Interface

ZEISS Axiocam 702 Monochrome

Live Cell Imaging
Low Light Microscopy
Imaging at Higher Magnifications

2.3mp CMOS Sensor
5.86µm Pixel Size
Up to 128fps at full resolution

USB3 connection to computer

ZEISS Axiocam 705 Monochrome

Live Cell Imaging
Low Light Microscopy
High Resolution Fluorescence Microscopy

5mp Cooled Global Shutter CMOS Sensor
1.85µm Pixel Size
62fps at full 5mp resolution
Wide sensitivity spectrum 350nm - 1000nm

USB3 connection to computer

ZEISS Axiocam 712 Monochrome

High Resolution Fluorescence Microscopy
Large Region Imaging
Live Cell Imaging

12mp Cooled Global Shutter CMOS Sensor
1.85µm Pixel Size
20fps at full 12mp resolution
Wide sensitivity spectrum 350nm - 1000nm

USB3 connection to computer

ZEISS Axiocam 807 monochrome

Live Cell Imaging
Fast Imaging of Dim Fluorescent Signals with good Signal-to-Noise Ratio

7.1mp CMOS Sensor
2.74µm Pixel Size
Wide sensitivity spectrum 350nm - 1000 nm

USB3 connection to computer

ZEISS Axiocam 820 Monochrome

Low Light Imaging with Live Cell Samples
Imaging of Dim Fluorescence Signals with good Signal-to-Noise Ratio

20mp CMOS Sensor
2.74µm Pixel Size
High 86% QE by Back-Illuminated Sensor

USB3 connection to computer