Upgrade Your Microscope to Digital
There are a number of ways to upgrade your microscope to a
digital microscope
. First, we need to take a look at what type of microscope head you currently have. There are three types of microscope heads that are used: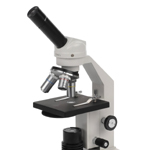 Monocular = 1 Eyepiece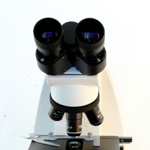 Binocular = 2 Eyepieces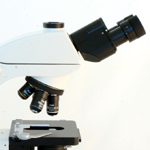 Trinocular = 2 Eyepieces + Camera Port
Mounting a Microscope Camera Over an Eyepiece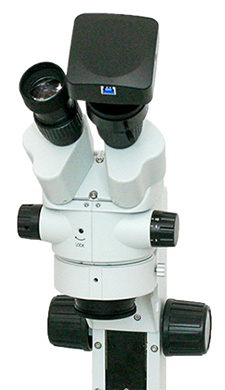 If you have either a monocular or a binocular microscope head, your microscope was not manufactured with digital camera connection in mind. However, you still have a few options for converting your microscope to a digital microscope. One of the simplest methods is to mount a microscope camera over the microscope eyepiece with an Over-Eyepiece Adapter. A microscope camera has a USB connection that plugs directly into your computer. When the software is opened you can view a live image from the microscope on the computer. The software allows for image and video capture as well as making measurements. WiFi microscope cameras can also be mounted over a microscope eyepiece. A wifi microscope camera works similar to the USB camera, but can be connected to an App on a smart phone or tablet where images from the microscope can be viewed and captured. Wifi microscope cameras are commonly used in classrooms and for teaching purposes.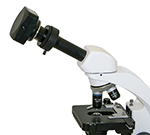 At left is a binocular stereo microscope with the USB microscope camera mounted directly over one of the eyepieces. You can learn more about how the Microscope Over-Eyepiece Adapter works in this article. On the right is a microscope camera mounted over a monocular student microscope.
Mounting a Microscope Camera on the Trinocular Camera Port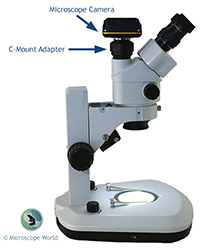 The typical connection between a camera and a trinocular microscope is called a
C-Mount adapter
. The purpose of the C-Mount adapter is to connect the camera (with 1" c-mount threads) onto the microscope and to format the image coming from the microscope so that it will "fit" onto the camera sensor. When you look through the microscope you see a circular image, but a camera has a rectangular image, so the image you see on the camera is cut out from your circular microscope image. When using a c-mount adapter, the camera / adapter configuration looks like the image shown at left.
This article explains how to find the correct c-mount adapter for your trinocular microscope
.
Microscope C-Mount Adapters

If you have a trinocular microscope head, the microscope should have been manufactured to accept a C-Mount adapter and a microscope digital camera. Please note that C-Mount adapters are not universal and are designed for a specific brand and model of microscope. If you are unable to locate a c-mount adapter for your specific brand of microscope, you may be able to use this generic focusing C-Mount adapter. Below are some images of common types of C-Mount adapters for various microscopes. You can learn more about microscope c-mount adapters here.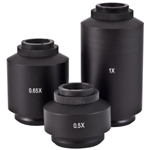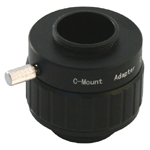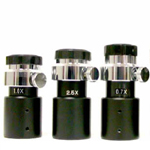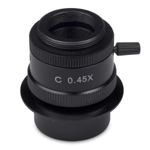 Once you connect your C-Mount adapter to the trinocular port of your microscope, you are then ready to connect a microscope digital camera, WiFi wireless microscope camera, or a LCD display camera to convert your microscope to a digital microscope. Below are some images of cameras and tablets connected using the C-Mount adapter on the trinocular port of the microscope.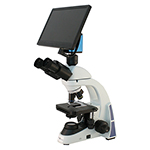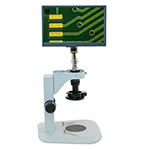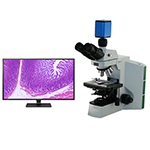 Mounting a Microscope Eyepiece Camera in an Eyetube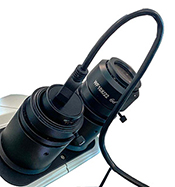 The microscope eyepiece camera mounts directly into the eyetube of the microscope. The existing microscope eyepiece is removed from the eyetube and the microscope eyepiece camera drops into the eyetube.

The microscope eyepiece camera will mount into these three size eyetubes:
Through a 23mm ID eyetube or trinocular tube.

Through a 30mm ID eyetube or trinocular tube.
Through a 30.5mm ID eyetube or trinocular tube.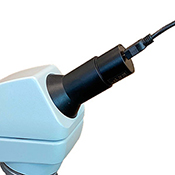 The eyepiece camera has 5.1 megapixels. The included software will allow you to view a live image on your computer. The software can capture and save both still images and video.

It should be noted that if mounting the microscope eyepiece camera into a binocular 30mm or 30.5mm eyetube, the camera will not be parfocal with the other eyepiece.

Connecting a Digital SLR Camera to your Microscope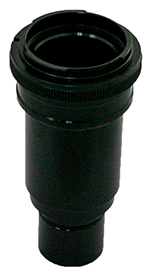 There are two types of digital SLR cameras adapters that will connect to a microscope including standard digital SLR camera adapters and mirrorless digital SLR camera adapters. These cameras may have APS-C sensors or full frame sensors.
The microscope adapters for SLR digital cameras will connect to the microscope in one of three ways:
Through a 23mm ID eyetube or trinocular tube.

Through a 30mm ID eyetube or trinocular tube.
Directly on a 1x c-mount adapter.
The microscope digital SLR adapter has a lens built into it that will match up with 10x eyepiece lenses. Using a digital SLR camera for microscopy image capture will produce the highest quality images of all the digital microscopy options. If you wish to capture microscopy images for publication, using a digital SLR camera is the recommended digital format since it will result in the highest quality images.