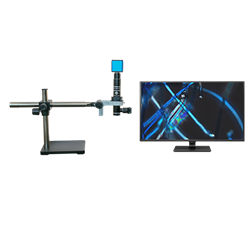 Visual Inspection Microscopes
Visual inspection microscope systems allow the user to view small parts and circuit boards on a monitor, providing larger images that reduce eye fatigue. These systems are perfect for quality control areas where a number of parts need examination throughout the day. These screen microscopes allow for fast visual inspection without having to look through any microscope eyepieces.

For details regarding any of our featured inspection microscopes, contact us. You can also request a quote today.