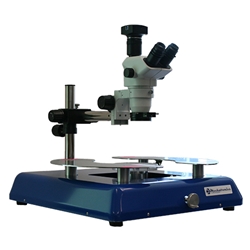 Probe Station Microscopes
These probe station microscopes are available to meet whatever resolution you may require for viewing the conductivity of micro circuits. The digital probe stations are paired with a camera that matches and works with the resolution of the system to provide the best images possible. The Motic PSM probe station microscopes are laser ready and include a number of microscopy features that will make working with the probe station easier and faster. These probe station microscopes have 3-lens changeover turrets located in convenient locations. These microscopes support the EzLaze and QuikLaze line of New Wave Research lasers without any additional laser kits. The laser transmission rate reduces the amount of wasted energy in laser work projects.
The probe stations that include the ACE stage have stable fixed platen supports with magnetic based positioners that support DC/CV and RF applications. The sample is stabilized by vacuum. Some additional unique features of the Motic PSM probe station microscopes include adjustable parfocality - each objective can be set to a specified focal plane. Each microscope has been built with ergonomics in mind, from the eyepieces to the location of the optical laser switch and the birefringence adjustment and magnification changer. Each probe station microscope system is modular and simple to add and remove parts. The die cast metal construction is durable and created for harsh environments. The long working distance plan Apochromat objectives permit multiple layered samples to be viewed.