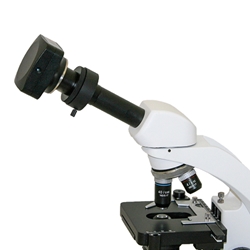 Microscope digital cameras typically have c-mount threads on them and mount directly to a c-mount adapter. A c-mount adapter has a universal 1" thread on it and each c-mount adapter is made specifically to work with its corresponding microscope. For example, you must use the Motic c-mount adapter that was made specifically for your Motic stereo microscope. It would not work to use a Richter Optica c-mount with your Motic microscope.
What if My Microscope does not have a Camera Port or C-Mount?
If you have a monocular microscope (one eyepiece) or a binocular microscope (two eyepieces) that was not made for camera connection, then you will not have a camera port (known as a trinocular port) or a c-mount adapter. A c-mount adapter is the microscope adapter that fits on a microscope camera trinocular port. If you have a monocular or binocular microscope, you still have options to connect a camera. The easiest way to connect a microscope digital camera in this situation is directly over your eyepiece. Using a Microscope Over-Eyepiece Camera Adapter you will be able to thread a c-mount camera directly onto the adapter and slide it over your microscope eyepiece.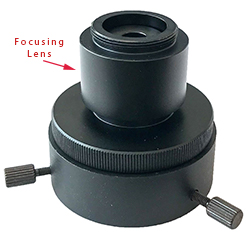 What Lens Do I Need in the Adapter?
The microscope over-eyepiece camera adapter has a focusing lens built into it. There are two different options of lenses and they are based on the type of microscope camera you will use. The lens is made for cameras with a 1/2" chip and those with a 1/3" chip.
The lens adjusts for any added magnification that a camera would add to your microscopy image so that you can view your sample on the camera just as you do through the eyepieces of the microscope.

Which Adapter Size do I Need?

The microscope over-eyepiece camera adapter is made to fit a wide range of eyepiece sizes. The inside diameter of the adapters available include 28mm, 30mm, 34mm, 35mm, and 38mm. The image below shows the adapter size measurement. You will want to measure the outside diameter of your microscope eyepiece at its widest point and choose your adapter accordingly. Typically, if you are using a student monocular microscope, you will want a 28mm or 30mm adapter. And if you are using a stereo microscope, most eyepieces for a stereo microscope will require a 35mm or 38mm adapter.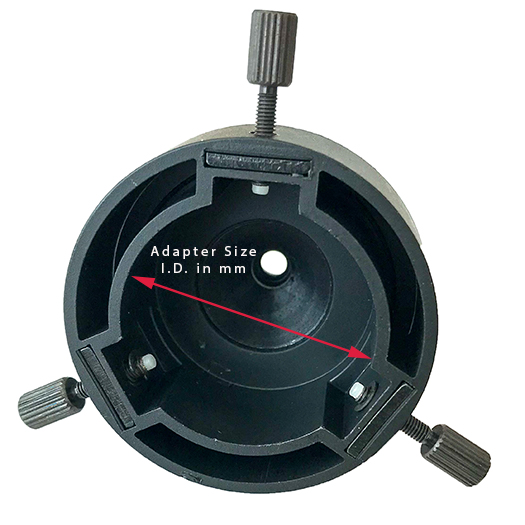 Microscope Camera Adapter Mounted Over the Eyepiece Examples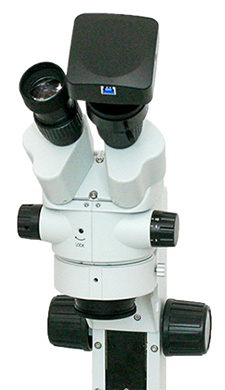 There are several different types of microscope setups that the Microscope Over-Eyepiece Camera Adapter can be used on. On the left the microscope digital camera is attached over the stereo microscope eyepiece using the Over-Eyepiece Camera Adapter. This setup might be found in an industrial setting for quality control.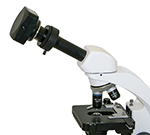 Below the microscope digital camera is mounted over a compound microscope eyepiece using the adapter.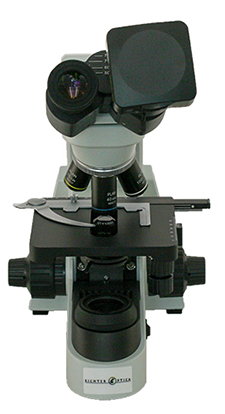 If you have any questions about the best way to connect your microscope digital camera to your microscope, contact Microscope World and we will be happy to help.