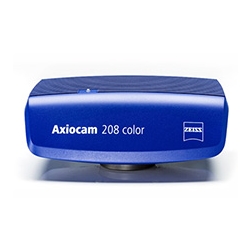 How to Choose a Microscope Camera: What Should I Consider Before Purchasing?

Microscope cameras can be used to view a live image, capture images, print images, email images, or give a presentation. There are many different types of microscope cameras on the market and the information below will help you determine which microscope camera will best meet your needs.
What is the Purpose of your Microscope Image?
Do you need to email an image to a customer? Or just capture and save a file? Do you plan to make measurements of your image, or do you want to print out a high-quality photo for publication? Depending on what you wish to do with the microscopy image, you will want to consider different types of cameras. Keep in mind that if you are viewing the image on your monitor, the maximum resolution you will see is whatever the maximum resolution of your monitor is. Below are several types of microscope cameras that are great for specific microscope related uses.
What is Your Current Microscope Setup?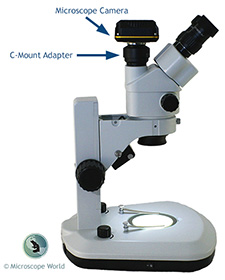 Before purchasing a microscope camera you will want to make sure you can connect the camera to the microscope properly. Most cameras are attached on a camera port that is also known as a trinocular port. The microscope uses a c-mount adapter that is microscope specific. This means that you should not use an Olympus c-mount adapter on a ZEISS microscope. The microscope c-mount adapter was made specifically to work with the optics in the microscope.
C-Mount adapters have a lens built into them and you will want to match up the proper c-mount adapter with the chip size in your camera to produce an image that most closely represents what you see when you look through the microscope eyepieces. This c-mount article explains more information about how to match the c-mount with your camera chip size.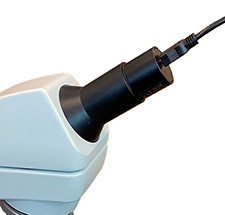 If you have a binocular (only two eyepieces) or monocular (one eyepiece) microscope, you will not have a camera port. In this case you would need to use a basic microscope eyepiece camera that would insert into your microscope eyepiece.
Another alternative if you do not have a camera port is to use an over-eyepiece c-mount camera adapter. This is an adapter that will mount directly over your eyepiece and will allow you to use any c-mount microscope camera you wish. Most microscope cameras have c-mount threads on them. C-Mount threads are a universal 1" thread size that are mounted on the microscope using a c-mount adapter.

Do You Wish to View Moving Samples?
If you wish to view samples that are moving such as living samples, or if you will be performing work under the microscope (such as soldering) where your hands will be moving it is important to select a camera that has a high frame rate. Many cameras will provide only 15-30 frames per second (fps) at full resolution, which will typically result in a choppy moving image. Especially if you are using a monitor to view your work or samples, make sure you have at least 60fps at a high resolution. The HDCAM6 camera provides 60 frames per second at full 4K HD resolution.
Do You Need a Monitor?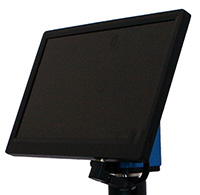 Some microscope cameras have the ability to attach a HD monitor directly on top of the microscope. These cameras with monitors attached to them save a lot of space and provide an easy way to view samples while reducing eye strain from looking through the microscope for long periods of time. In teaching situations it is easy for multiple students to gather around one microscope and view the sample simultaneously. The HDCAM3B-MON12 provides a simple HD monitor / camera package solution.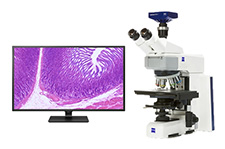 Alternatively, there are situations where a large HD 4K monitor is required in order to view very high quality microscopy images. Pathologists often require a high resolution camera and monitor in order to view samples. If using a 4K HD monitor, make sure you also purchase a 4K HD microscope camera.

Do You Require Extra Software Features?
Many microscope cameras will include software that provides basic image capture. There are several advanced microscope software features that can be helpful. Making measurements with a microscope camera is the number one feature users typically want. Keep in mind that you will need to calibrate the microscope software before attempting to make measurements under the microscope. Extended Depth of Focus is another feature that can be valuable when capturing images of samples that are not flat. Extended Dept of focus is also called Z-Stacking and you can learn more about it here. Cell Counting is another software feature that is commonly used with a biological microscope.

What are the Microscope Camera Connection Types?
USB Microscope Cameras connect through the USB port on the computer. These cameras typically include software for image capture and any images would be viewed on the computer. In most cases the software needs to be opened up prior to viewing any images on the computer. USB3 microscope cameras will provide faster frame rates than USB2 microscope cameras. The most popular USB microscope camera sold by Microscope World is the DCM5 camera because it includes software for image capture and measurement, and the software is easy to use.

HDMI Microscope Cameras provide images by plugging the camera directly into a HDMI port on a monitor or LCD projector. These HDMI microscope cameras are often the simplest to use because they show a live image once the camera is plugged into the HDMI port. These microscope cameras are great for presentations and viewing live images. Software is not usually used with these cameras and image capture would be performed using a SD card (if available).

WiFi Microscope Cameras send a signal from the microscope camera to an App on a smart phone or tablet. WiFi microscope cameras are typically used in classrooms and can allow the teacher to view images from multiple student microscopes at the same time. WiFi microscope cameras are limited by the range the WiFi signal can travel and they typically do not project the WiFi signal through walls.

If you have any questions about microscope cameras or microscope camera software, please contact Microscope World.
Related Articles of Interest:

How to Upgrade Your Microscope to Digital
Microscope Eyepiece Camera Information