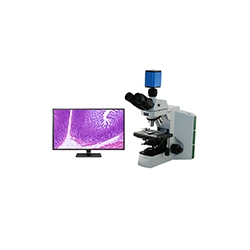 Digital Microscope Cameras
When selecting a digital microscope camera it can be helpful to understand the pros and cons of each type of camera in order to determine which camera will work best for your microscopy needs. Below we break down the 5 best options for digital microscopy.
The 5 Microscope Digital Camera Options
There are five common digital microscope camera options and each of these are covered in detail below. The microscope camera options include:

USB Microscope Camera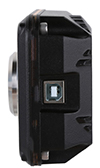 The USB microscope camera connects to the microscope on a c-mount adapter or over the microscope eyepiece and plugs directly into the computer or laptop with a USB connection. Microscope USB cameras include software that allow you to view a live image from the microscope on the computer. The software can be used to capture images and video, and make measurements on captured images. USB microscope cameras are available for high resolution, high speed (fast frame rates), fluorescence work, and extended depth of focus.
Pros and Cons of USB Microscope Cameras:
The main benefit of a USB camera is the ability to view the image on the computer, capture these images and make measurements. The downside to a USB camera can be a slow frame rate. These cameras are not ideal for live work under the microscope as there can be a lag between movement and the image moving on the screen. The cameras have a lower resolution for image capture.
USB microscope cameras are most often used for routine quality control work, educational settings where image capture is required, and hobby use for documentation.
HD and 4K Microscope Cameras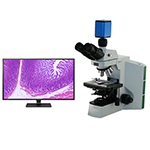 The high definition HD microscope cameras and 4K microscope cameras provide an extremely high quality image and a fast frame rate. These HD microscope cameras connect directly into a monitor using a HDMI cable. Images are captured by pressing a button on the camera that will capture an image directly to a SD card or USB flash drive that is inserted into the camera.
Pros and Cons of HD and 4K Microscope Cameras:

The benefits of using a HD or a 4K HD microscope camera are the high quality image that is produced and the fast frame rates. These cameras are simple to use by only needing to plug a HDMI cable from the camera into the monitor and turn it on. The downside of these cameras is that image capture is typically only performed by pressing a button which saves the image to a flash drive or SD card. This device then needs to be inserted into a computer, so any live computer work or measurement will take place at a later time.

High definition microscope cameras are used by pathologists, in educational settings where a high quality live image is needed, and when working under the microscope where a fast frame rate is required.

Tablet Microscope Cameras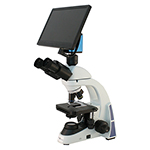 Tablet microscope cameras are mounted directly on the microscope and provide a live image that can be viewed without looking through the microscope. These tablet cameras are available in HD or just a basic camera.
Pros and Cons of Tablet Microscope Cameras:
The benefits of using a tablet microscope camera is the live image that is mounted directly on the microscope. These tablets safe space and allow customers or technicians to view an image immediately and avoid eye strain. The downsides to these cameras include typical lower image quality (if the tablet is not HD), and on tablets made for educational use, a slower frame rate.

Tablet microscope cameras are frequently used in classrooms and museums so more than one person can gather around the microscope to view the sample. Quality control inspection stations are sometimes outfitted with tablet microscope cameras to reduce eye strain. Jewelers will often place a tablet camera on their microscope in order to show customers details in their gems.
WiFi Microscope Cameras
WiFi microscope cameras connect to the microscope and create their own WiFi signal. Users download a free App onto their smart phone or tablet and using this App, live images can be viewed from under the microscope.
Pros and Cons of WiFi Microscope Cameras:

Most WiFi microscope cameras are best used to project images to devices and are good for basic documentation. The range of the WiFi signal that WiFi microscope cameras create is not usually more than 20-30 feet, so range can be an issue depending on the location. The frame rate and resolution of WiFi cameras is not typically very high, so these are not good cameras for research work.
WiFi microscope cameras are popular in classrooms and teaching environments.

SLR Cameras

SLR digital cameras can be connected to a microscope using a digital camera SLR adapter. Typically these adapters will either drop into a 23mm ID or 30mm ID eyetube, or mount directly on a 1x c-mount adapter. The image at right shows the camera mounted on the 1x c-mount. If the camera is mounted through an eyetube, depending on the weight of the camera it may need to be supported. Using a digital SLR camera on the microscope will produce the highest quality images available out of all the digital camera options listed above.

Pros and Cons of Digital SLR Cameras for Microscopy:

The main benefit to using a digital SLR camera is the high quality image that can be captured, especially with the SLR cameras currently on the market. The downside to using a digital SLR camera is that it can be hard to parfocal the camera with the eyepieces, meaning you may need to capture multiple images before you find the correct focal distance that will capture an in-focus image for the camera.
Digital SLR cameras are used in microscopy for research and publication purposes. Artists will also use digital SLR cameras when photographing microscopy artwork.

If you have any questions about the best microscope digital camera option for your needs, contact Microscope World and we will be happy to help.