Troubleshooting Microscope Cameras
Digital microscopy and microscope cameras and software are fantastic additions to the world of microscopy. However, there is nothing more frustrating than not being able to view an image on your computer monitor from your digital microscope. Below you will find some troubleshooting tips for viewing live images on the camera or computer monitor from your digital microscope.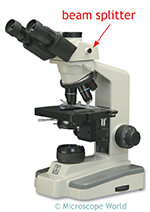 Is your microscope beam splitter engaged?

The microscope beam splitter directs light up the trinocular port to the camera. When the beam splitter is not pulled out or engaged, the light will not travel up to the camera and you will not be able to view an image at the camera. You will find the beam splitter on the side of the head of your microscope. The beam splitter will either be a switch or a lever you can pull out and push in.

Do you have a specimen under the microscope and in focus?

Before you try to view images through the camera or on your computer screen, make sure that your sample is under the microscope, the light is turned on and it is in focus. Many camera sensors are sensitive and if your image is not in focus the camera might not pick it up.

Particularly on a stereo microscope - is the light on?

Many times when you look through a stereo microscope without the light on you might still be able to see the image. However, cameras require extra light in order to be able to pick up that same image, so make sure you have a brightly lit sample under the microscope.

Are objectives clicked into place and caps removes off stereo objectives?

If you are using a high power compound biological microscope, make sure that your objective lens is clicked all the way into position. If it is slightly between positions the image will not be projected up to the camera properly. Many stereo microscopes come with a black protective cap that is screwed onto the bottom of the body to protect the lenses. Make sure this cap is removed before using the microscope and trying to view samples with your digital camera.

Digital Camera Software Adjustments:

Each microscope digital camera uses different software, but some of the troubleshooting tips are similar across many camera interfaces.
Make sure you have the correct camera model selected within the software. Some microscopy software is made to interact with multiple cameras and if you don't have your specific camera selected the software will not show you a live image on the computer monitor.
Make sure the drivers are installed properly.
Check the software settings for "exposure". If the exposure is set too low you will only see a black screen and if it is set too high you will only be able to see a white screen.
Make sure you have selected the "live image" setting within the software.