PAX-it Imaging Software
PAX-it microscopy imaging software works with the PAX-it line of microscopy cameras and has the following capabilities:
Image Stitching - easily grab adjacent images and use the PAX-it software to automatically stitch them together into a larger image. The software can handle images that are rotated with respect to each other and still stitch them together.
Image Fusion - capture several images that focus on different planes. Image fusion will combine these images into one evenly focused image.
Background Subtraction - if you captured an image that has dust in the field of view, or an image with uneven illumination it can be fixed by subtracting the background from the image. PAX-it imaging software allows background subtraction from captured images.
Image Blending - Combine multiple fluorescence images into one. For example: red, green and blue fluorescence images taken separately can be merged into one image to see the relationship between structures. The level of transparency can be adjusted when blending. This feature is also useful for image comparison by overlaying one image on another.
High Dynamic Range Imaging - Using the HDR tool allows images to be captured at various exposure levels and then blended into a final image with detail throughout the range of exposures.
Time Lapse Photography & AVI Video Clip Production - Capture time lapse sequences of images automatically. Video clips can be created including annotations and edits.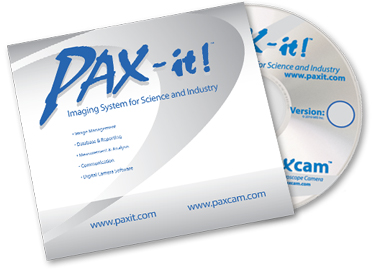 The PAX-it imaging microscopy software stores images in an electronic filing system, making it easy to organize a large image collection by subject, technique, supplier, technician, or any other defined method. Behind the simple filing system for browsing by organized topics, each item stored in a PAX-it collection also resides in a user-defined powerful database. Images are easily accessible and can be inserted into email, Powerpoint, Word or Excel quickly. Annotate images prior to use. Images can also be stored with or without user defined JPEG compression, as well as saved directly to removable or network drives. The PAX-it database can also be used to store reports, spreadsheets and other file types.