Panasis Software Features
Panasis software is included with the DK and DCC microscope cameras offered from Microscope World. Below you will find the basic and advanced features of this microscope camera software.
MEASURING:
Basic measuring feature - select from the tool box options (shown at top left) to measure area, line distance, circles, angles, polygon, squares, among many others. Data can be collected and exported to Excel for analysis.
Auto-trace an image for measurement.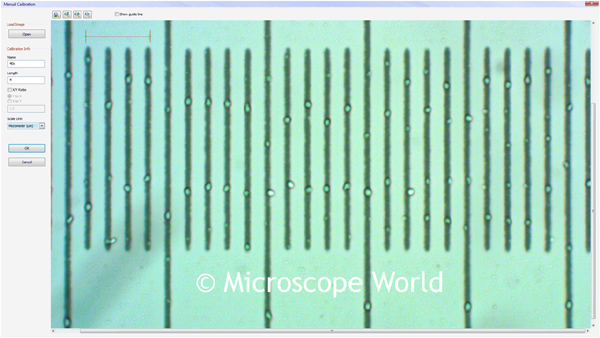 Easy to use manual calibration allows for both live measurement and basic measurement after images have been captured. When calibrating enter the objective value used (40x for example), along with the units of measurement (um, mm, inches, etc.) desired.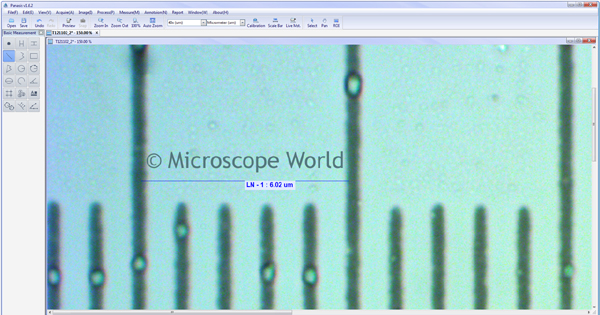 Basic measurement made after calibration.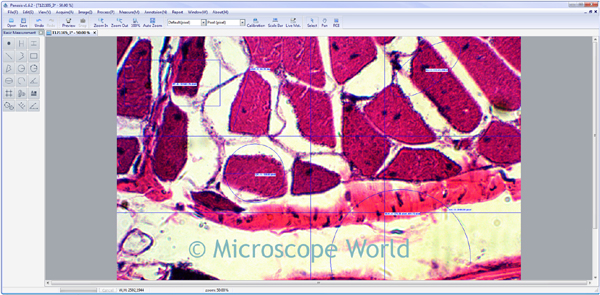 Image above shows a variety of measurements including diameter of a circle, area of a circle, ellipse, rectangle, line, etc.
MULTI-FOCUS IMAGING: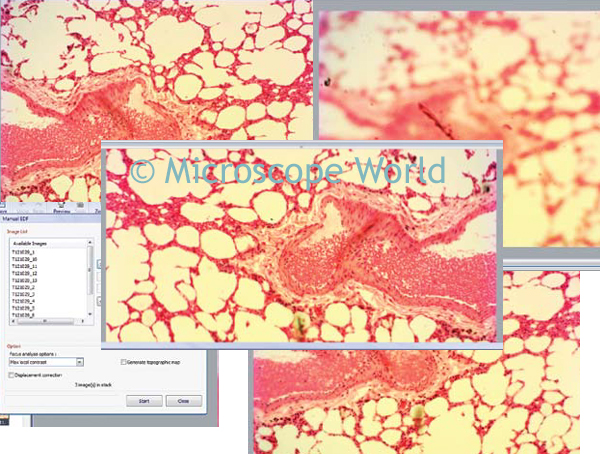 Manual multi-focus imaging (extended depth of focus tool) allows the combination of several unfocused images into one sharp image. This process is very helpful when the subject height is greater than the available depth of focus, resulting in an image that is partially out of focus. Multiple images captured in sequence from top to bottom are combined into a composite in-focus image.
TILING / STITCHING: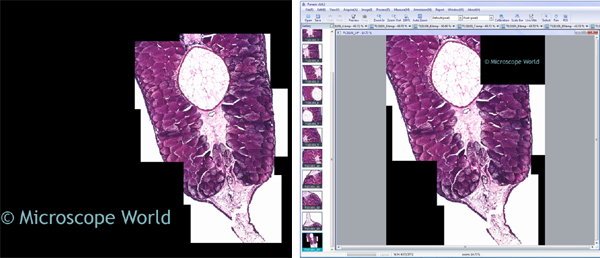 Manually stitch multiple microscope images together into one large tiled image.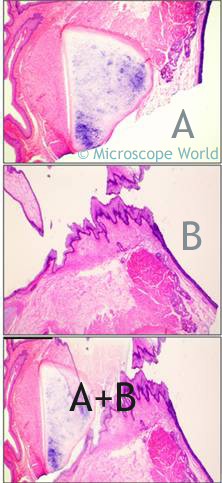 In the stitching example above image A and image B were combined into the image on the bottom.
RECORD / CAPTURE: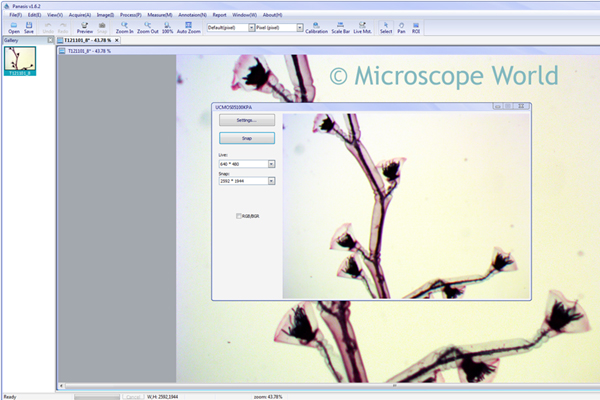 Capture still images, record movies, time-lapse capture.
Camera support includes WDM, TWAIN acquisition.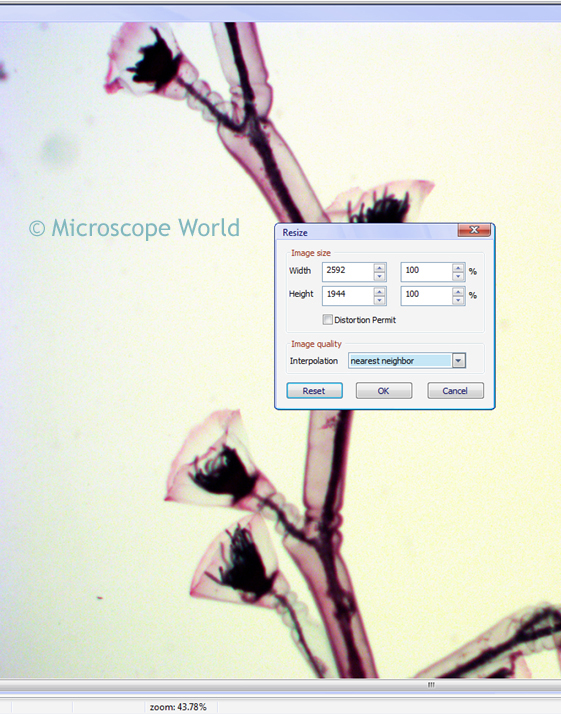 Panasis software makes it easy to resize images quickly.
Panasis software allows image adjustments without using extensive photo editing software such as Photoshop.

Images captured are stored in the image gallery, making it easy to locate and switch from one image to another.
Surface viewer can be used to view fine details in images.
EDITING: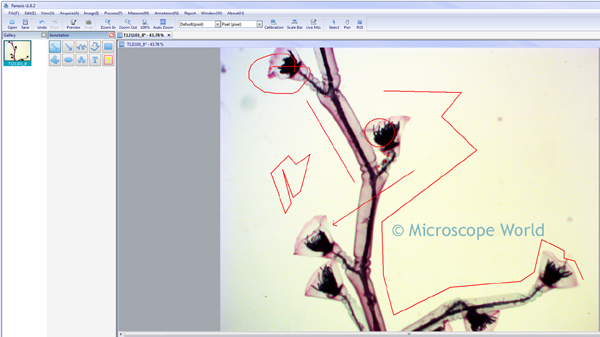 Annotation - add text, outlines and symbols to previously captured images.
Rotate options - vertical flip, horizontal flip, 90° clockwise, 90° counterclockwise.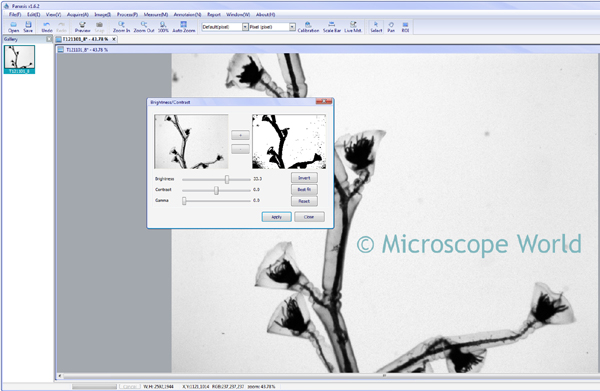 Brightness and Contrast - adjust brightness, contrast and gamma. Side by side image view provides comparison while making adjustments.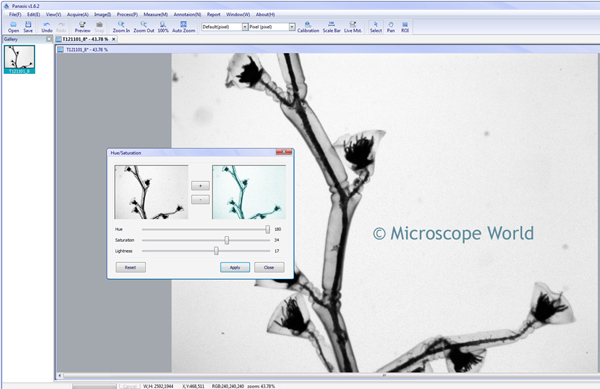 Hue & Saturation - adjust hue, saturation and lightness. Side by side image view provides comparison while making adjustments.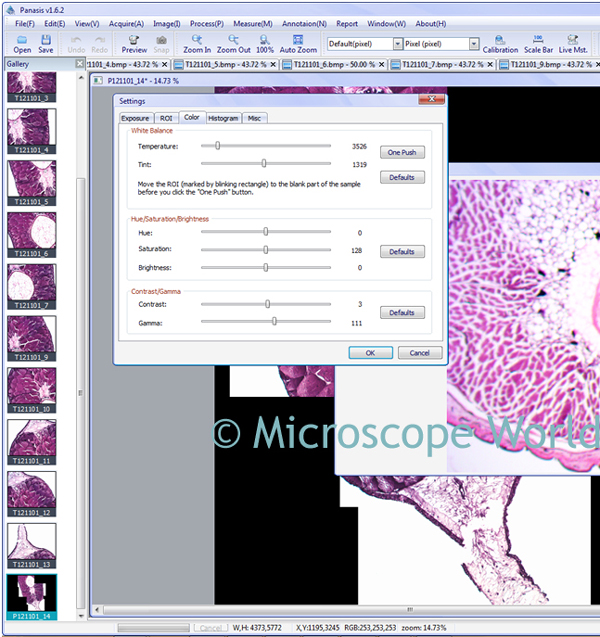 Color Adjustment - use defaults or adjust manually. Select monochromatic (black & white) or color.
White Balance - temperature and tint
Hue/Saturation/Brightness - adjust hue, saturation and brightness separately
Contrast/Gamma - adjust contrast and gamma separately

Histogram - ability to view color graph with RGB
Exposure Adjustment - adjust target, exposure time and gain. Or select auto exposure.
Vignetting - adjust amount and midpoint.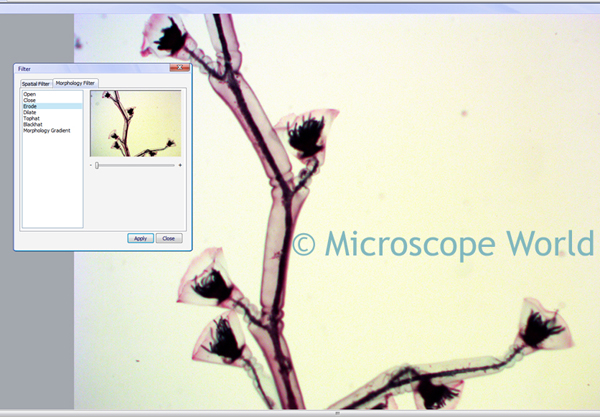 Morphology Filter options - open, close, erode, dilate, tophat, blackhat, morphology gradient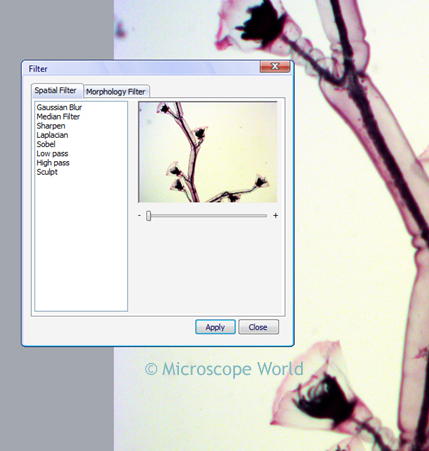 Spatial Filter options - Gaussin blur, median filter, sharpen, laplacian, sobel, low pass, high pass, sculpt
REPORTING
Data collection is recorded when making measurements. Export images and data to Excel for further analysis.