Museum Display Microscope
The museum display microscope was designed for displaying archeological samples, botany samples, insects and fossils. The microscope provides 10x and 30x magnification with a high definition HD camera and 12" HD monitor on the microscope. The monitor can be faced any direction, allowing an exhibit to be set up so on one side of the microscope guests can look through the eyepieces, while on the other side of the microscope the high definition monitor displays the objects for multiple guests to view. Alternatively, the monitor can face forward providing a magnified image for all to see.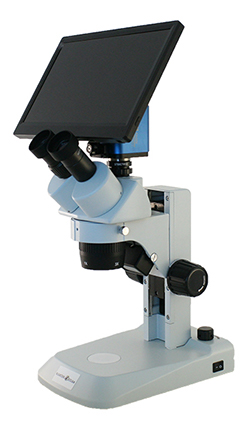 A few features of the museum display microscope include:
Top & Bottom LED Illumination
HD High Definition Camera
HD 12" Display Monitor
10x and 30x Magnification
Monitor can be adjusted to face any direction.
Light Intensity Control for each light.
The museum display microscope can be purchased here.