ZEISS ZEN Core Microscope Software
ZEISS ZEN Core is microscopy software for image acquisition, processing, analysis, and data connectivity. This software is designed to be used in industry and manufacturing environments where a large number of samples need to be analyzed under certain parameters such as in a quality assurance environment. A key feature of the software is that it allows data to be centrally stored so that data can be easily accessed and shared across different locations.

ZEN Core Features:

Different operating modes:
Job Mode: Used for the batch analysis of samples. Users process a set of samples using the same series of examination tasks.
Free Mode: Inspect a sample quickly and easily without pre-defined parameters. If an anomalous sample detected, this mode can be used to a perform one-off inspection to identify the cause of the fault.
Maintenance mode: Manage user accounts, settings and calibration, and manage data.
User management: Can define different user roles—e.g. operator and supervisor.

Image processing: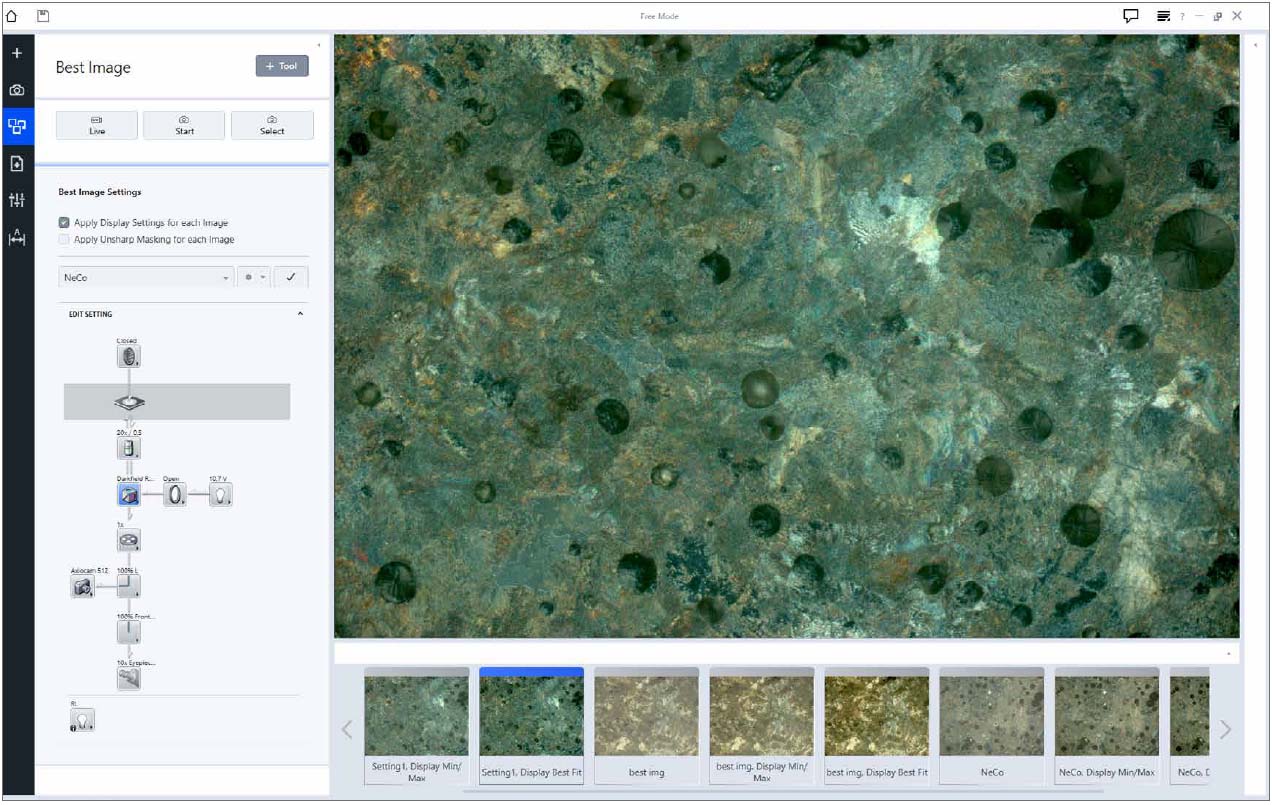 'Best image' automated feature assists with finding the optimum microscope settings for image acquisition.
Using the Panorama and Tiles feature allows the user to easily create stitched images of large samples.
Using the Autofocus setting determines the ideal focus position for the sample.
Encoded microscope settings automatically detect what microscope components are being used to ensure repeatable results.
Extended Depth of Focus allows for multiple images to be acquired at different focus positions and combined into a single image with an enhanced depth of field.
Perform measurements on the images.
Data Processing:
Create and edit templates for forms or reports.
Browse, view, and annotate images.
Data Sharing:
Easily share images, data, and reports.
Access data from any mobile device or PC.
Advanced Features:
ZEN Core offers additional modules for specific applications, including but not limited to the following:
The AI Toolkit allows users to train AI (artificial intelligence) software to automate image analysis.
The GxP Toolkit allows users to create a 21 CFR Part 11 compliant system if proper validation of the system is performed.
For more information, please contact Microscope World.