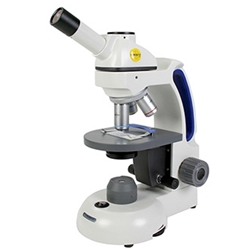 Swift Microscope Information

Microscope World has sold Swift microscopes for fifteen years. Historically the Swift brand has been a solid work-horse brand of educational microscopes that are manufactured in China. Swift manufactures compound microscopes, stereo microscopes, and digital microscopes.

Swift Compound Microscopes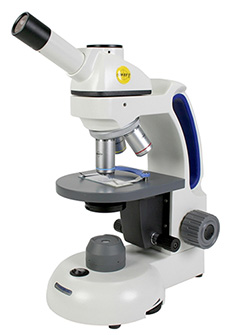 Swift compound microscopes are popular in schools throughout the United States and many were designed with student-proofed features including built-in carrying handles, cord holders, and locked-on objective lenses.
Compound Microscopes are also known as biological or high-power microscopes. These microscopes are used for viewing slides and will allow you to see things that you can not otherwise view with the naked eye such as blood cells, bacteria, or even protozoa!
A few of the most popular Swift Compound Microscopes Include:
Swift Stereo Dissecting Microscopes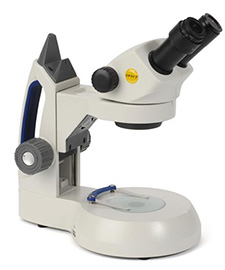 Swift stereo microscopes provide low power magnification and are the ideal instrument for viewing coins, flowers, rocks, or any small object that you might hold in your hand, but wish to see a bit more detail.
The Swift stereo microscopes are available in either dual magnification or zoom magnification. The most popular Swift Stereo Microscopes include:
Swift SM101 - This is a dual magnification microscope with 10x & 30x. The microscope can be purchased corded or cordless.
Swift SM105 (shown at right) - This zoom magnification microscope provides 10x-30x zoom range.
Swift M29TZ - This zoom magnification microscope provides 10x-40x zoom and has a trinocular port for optional addition of a camera.
Swift Micro-Macro Field Microscope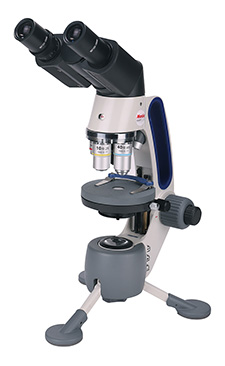 We often get asked if there is a microscope that combines both the compound microscope and the stereo microscope into one single microscope. The Swift M3-B micro-macro field microscope is the answer. This microscope will allow you to view items at low power (10x), and also view slides at higher magnification.

If you are uncertain whether you want to purchase a compound microscope or a stereo dissecting microscope, the Swift M3-B (shown at left) might be a good hybrid for you. Here are a few of the features:
10x macro observation lens with top light for viewing items you would normally put under a stereo microscope such as a rock, coin, flower, or insect (the stage lowers so you can fit these items on it).
40x, 100x, 400x magnification for viewing slides with a light beneath the stage.
Rechargeable batteries, a carrying handle, and detachable tripod legs make this a great microscope for field work.
Swift Digital Microscopes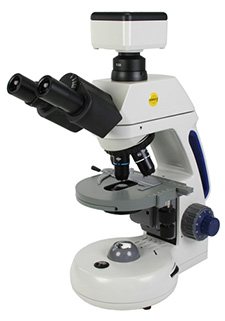 Swift digital microscopes are available for both compound and stereo microscopes. The digital microscopes include either a tablet camera, a USB camera, or a HDMI camera. The tablet camera attaches directly to the microscope and allows the user to view a live image from their microscope on the tablet. The USB camera connects into the computer and includes software for image capture.
Below are some of the popular Swift Digital Microscopes:
Swift M10T-HD Digital Microscope - This compound microscope (shown at left) provides 40x, 100x, 400x, and 1000x magnification. HD camera provides full HD at 60 frames per second. Images can be captured with SD card, or with the included software on the computer.
M17T-BTW2-P Tablet Microscope - This compound microscope has infinity corrected optics and the tablet sits on top of the microscope for viewing live images.
SM105T-C-USB Digital Microscope - This stereo microscope has 10x-30x zoom magnification. The USB camera provides 2mp image capture and includes software that works on a PC or MAC.
New Swift Microscopes

In 2019 Swift began manufacturing a much less expensive line of microscopes. This line of microscopes includes the following: Swift SW350B, Swift SW350T, Swift SW380B, Swift SW380T, Swift S303, Swift S306S, Swift S308, Swift S41-20, Swift S7, Swift SW100, Swift SW150, Swift SW200, Swift SW200DL, Swift SW50, and Swift eyepiece camera.
Microscope World does not sell this inexpensive, lower-quality line of Swift microscopes and has unfortunately received many calls from frustrated customers about the quality and issues they are having with these inexpensive microscopes. If you purchased one of these microscopes and are having trouble with it, please contact Amazon where you purchased the microscope.

Microscope Questions?

If you have questions about any of the Swift microscopes or aren't quite sure which microscope model would work best for your application contact Microscope World and we will be happy to assist you.