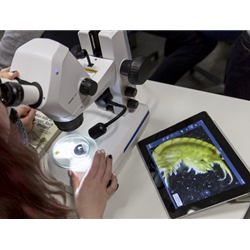 How To Take Photos Through A Microscope and Pictures Of Microscope Slides?
Microscopy cameras have evolved drastically over the years and can now easily take photos of microscope slides or whatever you are inspecting. They now have smaller, faster sensors, offer a range of megapixel options and have improved software capabilities with options for image capture, live video and measurement features, and even extended depth of focus, just to mention a few. Some models are WiFi capable and are ideal for classroom settings. There are sometimes options to connect a digital SLR camera to the microscope.

Microscopy Cameras

The microscopy camera makes it possible to capture images you see through the microscope. If using the correct c-mount adapter, the image will look similar to the image seen through the eyepieces. The c-mount adapter is a camera adapter that is specifically made for your microscope. When selecting a c-mount adapter you will want to take into consideration the eyepiece magnification as well as the camera chip size in the camera. Also, keep in mind that a microscope provides a circular image, while a camera has a rectangular sensor, so you will not see exactly the same size image you see through the eyepieces. If you are trying to match the field of view of the camera with commonly used 10x eyepieces, use the chart below to find the correct c-mount adapter based on the chip size in the camera.
Which C-Mount Adapter Do I Need?
| | |
| --- | --- |
| Camera Chip Size | C-Mount Adapter |
| 1/4" | 0.3x |
| 1/3" | 0.3x |
| 1/2" | 0.45x or 0.5x |
| 1/1.8" | 0.5x or 0.6x |
| 2/3" | 0.7x |
| 1" | 1x |
Types of Microscope Cameras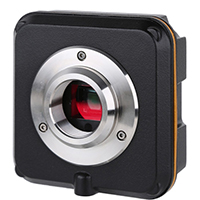 USB microscope cameras connect directly into your computer and include software for image viewing and measurement. HD cameras connect from the camera right into a HD monitor and do not require the use of software. HD cameras will provide a faster live frame rate and are great if you are viewing moving samples under the microscope. Many HD cameras have a SD card slot for image capture. WiFi cameras allow the image from the microscope to be streamed directly to a tablet or phone that has been loaded with an App for viewing the microscopy image. These WiFi cameras are popular in classrooms. You can read about how one high school in Ohio put WiFi microscope cameras to use here. And finally, digital SLR cameras are used most commonly for the highest quality research images that will be printed. A digital SLR camera always has the best resolution of any camera you can put on a microscope. Depending on your microscope setup, there may be a Digital SLR camera microscope adapter that can be used with your camera to capture images.

If you have any questions about what microscope camera or microscope camera adapter is best for your application,
contact Microscope World
and we will be happy to help.