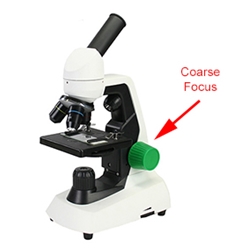 Choosing A Children's Microscope
There are many types of children's microscopes on the market and it can be frustrating trying to figure out which one is best. Here are a few things to consider when purchasing a kids microscope.
Choosing the Type of Microscope For Your Kid:
There are two types of kids microscopes: stereo (low power) microscopes and compound (high power) microscopes. Each microscope is used to view different samples and is described in detail below.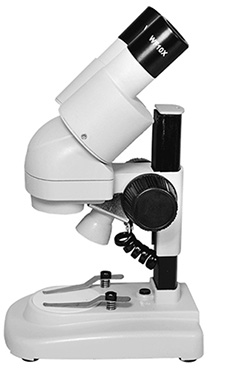 Stereo microscopes provide anywhere from 10x-40x magnification and kids use stereo microscopes to view rocks, insects, flowers - just about anything (toy cars!) you might hold in your hand and want to view in more detail. With a stereo microscope you can put your sample directly on the microscope stage for viewing. Kids stereo microscopes are available with single magnification (20x is recommended), dual magnification, or zoom magnification. The kids stereo microscope shown at left (HBY20) is a basic 20x microscope with a LED light that runs on batteries.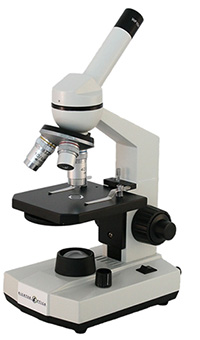 High power compound microscopes are used to look at things you would not be able to see with the naked eye including bacteria in pond water or your blood cells. With a compound microscope you will need to prepare a microscope slide and cover slip prior to viewing samples, or you can purchase prepared slides. Some compound microscopes have a mechanical stage on them that makes it easier to maneuver the slide, especially when viewing at higher magnifications. The image shown at right is a high power compound kids microscope with 40x, 100x, and 400x magnification, with stage clips rather than a mechanical stage.

Microscope Quality:
Look for a microscope that has glass optics. Many cheap children's microscopes have plastic eyepieces and objective lenses. Microscopes that do not have glass optics will produce images that are blurry and hard to focus.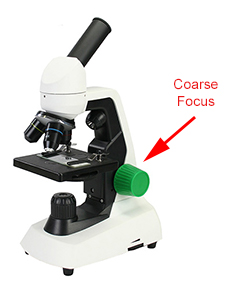 High power compound microscopes are much easier to use when they have both coarse and fine focusing knobs. A microscope with only coarse focusing will have no trouble focusing at the lowest (40x) magnification. However, when trying to focus at 100x, 400x or above, it will be difficult to get the sample into focus if you do not have a fine focus adjustment.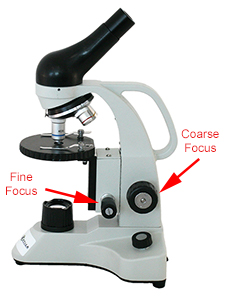 Do not purchase a microscope that advertises magnification above 1000x. More magnification is not always better and anything above 1000x will provide empty magnification and your images will not be clear and in focus.

Does Your Child Need A Digital Microscope?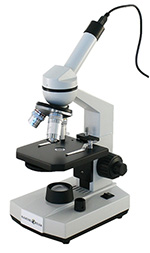 Digital kids microscopes are available in a variety of options. A basic digital microscope will simply replace the eyepiece of the microscope with a digital camera. The MDS1-D digital middle school microscope uses this type of microscope camera. This digital microscope allows the user to view a live image on the computer and capture and save images. A more advanced digital microscope would be a WiFi microscope that allows users to view live images on an App on their tablet or smart phone. And finally, a digital LCD microscope has a HD monitor mounted right on the microscope so kids can gather around and everyone can view the live image at the same time.
Does Your Child Need A Cordless Microscope?
Before you purchase a kids microscope, think about where you will use the microscope. Is it near an outlet? If so, you probably don't need to worry about having a cordless option. However, if the area you want your kids to work with their microscope doesn't have an outlet close by, a cordless microscope will keep kids from tripping or knocking the microscope off the table by tugging at the cord.
Best Microscopes & Microscope Sets For Kids:

Best Basic Kids Starter Microscope Set 102-KIT is a high power compound microscope, smaller in size for kids. The microscope includes 5 prepared slides. Positives: microscope has glass optics, is cordless and includes a recharger. Negative: the microscope only has coarse focusing.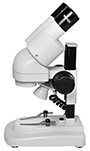 Best Basic Kids Stereo Microscope
HBY20
is a 20x stereo microscope that is perfect for viewing coins, leaves, flowers, insects, etc. Positive: cordless. Negative: only one single magnification.

Best Middle School Microscope
MDS1
has 40x, 100x, and 400x magnification. Positives: built-in carrying handle, cordless with a recharger, coarse and fine focusing. Negative: no mechanical stage.

Best Advanced Student Stereo Microscope
S6BL
is a zoom stereo microscope with top and bottom LED illumination. Positives: stand has a compact footprint, 7x - 45x zoom. Negative: corded microscope only.

Best High School Microscope
HS-2B
has 40x, 100x, 400x, and 1000x magnification and is commonly used in high schools throughout the US. Positives: binocular, built-in mechanical stage, coarse and fine focusing. Negative: no cordless option, corded only.

Best Basic Digital Microscope
MDS1-D
has 40x, 100x, 400x magnification. Positives: coarse and fine focus, 3mp camera for viewing live images or capturing and saving images on a computer. Microscope can be used corded or cordless. Negative: stage clips only, no mechanical stage.

Best WiFi Student Microscope
UX1-WiFi has 40x, 100x, 400x, 1000x magnification. Positives: coarse and fine focus, built-in mechanical stage, WiFi camera creates its own hotspot, no need to be on a network. This microscope is also cordless. WiFi camera is 4mp and allows for image capture with software. Negative: line of site is required when using the WiFi camera, maximum distance of 20 feet.

Best LCD Digital Microscope
UX1-LCD
provides 40x, 100x, 400x, 1000x magnification and live HD images on the HD monitor. Positives: binocular, coarse and fine focusing, built-in mechanical stage, cordless microscope with recharger, capture images to SD card, 12" HD monitor. Negative: monitor must be plugged in for use (camera will not operate cordless).
If you are having trouble determining what kids microscope will work best for your child, contact Microscope World and we will be happy to help.