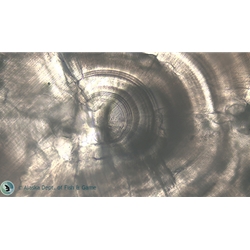 Microscope World recently helped the Alaska Department of Fish & Game get a microscope for use at their William Jack Hernandez Sport Fish Hatchery located in Anchorage. This fish hatchery is a fully enclosed, recirculating aquaculture system (RAS) facility that uses technology to conserve water and reduce heating demand for the production of Chinook and coho salmon, rainbow trout, and Arctic char fish. The hatchery has over 100 rearing tanks with space for production of more than 6 million sport fish each year. These fingerling (1" to 2"), smolt (3" to 5") and catchable (7"– 12") fish are released throughout South Central Alaska from Cordova to Kodiak, Homer, Kenai, Seward, Anchorage, Mat/Su and Talkeetna for sport fishing.
The Alaska Dept of Fish & Game has an incubation period for fish with a planned series of water temperature changes that causes the fish to lay down a dark bank of protein. This process is called thermal marking. This way the fish hatchery can label 100% of the fish with their mark. All the salmon that are released into either streams or the ocean are marked. These are all fish that migrate out to sea as smolt (1-2 years old), and then return to the release site as adults. All the salmon that migrate to sea go through the series of water temperature changes to lay down the pattern of dark protein bands. That mark is assigned to the William Jack Hernandez Sport Fish Hatchery, so no one else rearing Chinook salmon will have that mark.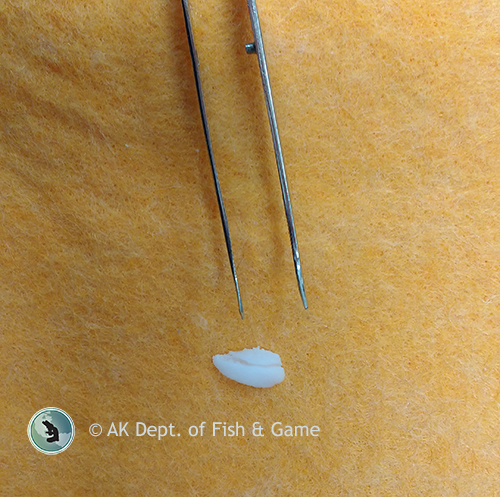 The image above is of a small bony structure in the fish's head called an Otolith.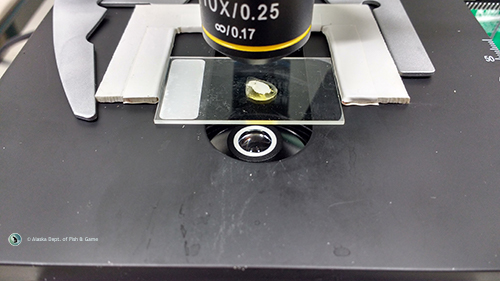 This otolith is glued to a slide and then ground down until the core (where the rings are located) becomes visible.

The Alaska Dept of Fish and Game is using the U2-HD digital microscope with 100x, 200x, 400x magnification to identify the rings in the otolith.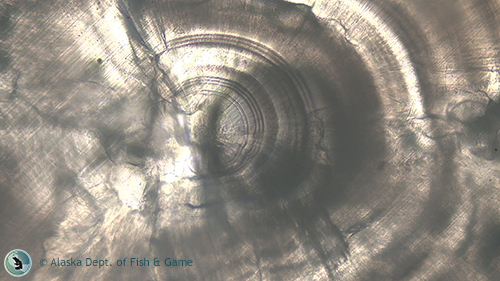 The Otolith image captured under the microscope actually has two marks. The image shows 3 bands of rings. The inner most band has 2 rings and the middle and outer bands each have 3 rings. The first 2 bands (closest to the center with one band of 2 rings and a second with 3 rings) means this is a Chinook salmon that was reared by Alaska Dept. of Fish & Game and released into a waterbody that runs into Cook Inlet. All of their Chinook salmon that migrate into Cook Inlet have this mark. To verify these marks, they send small fry to a lab in Juneau where they dissect out a very small otolith and determine if Alaska Dept. of Fish & Game actually laid down the assigned mark.

The second mark (known as an accessory mark) is the single band with 3 rings that is further out. That mark is what this specific hatchery is interested in (and the reason they use the microscope). The hatchery is conducting a size at release study to determine if they get a better return in fish size and numbers if they release fewer large sized smolt or more smaller sized smolt. For one release site (Ship Creek) the hatchery releases two different size groups of Chinook salmon smolt. The small ones at release are 12-14 grams, and the large ones are 18 – 20 grams. The belief is that if a smolt goes out too large in size, they may return as younger/smaller adults. However, the overall survival might be better. This particular band of rings from this fish tells the hatchery this otolith came from a fish that belonged to the small size at release group of smolt. This is a multiyear project for the hatchery, and they have different accessory marks to lay down each year for the two size groups.

A huge thank you to Alaska Dept. of Fish & Game for sharing their otolith images and bit of information about their fish project going on at the William Jack Hernandez Sport Fish Hatchery.

Contact Microscope World for further information on digital microscopes or custom solutions for your application.