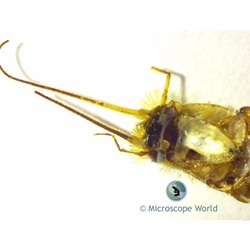 Silverfish are small, silvery wingless insects in the order Zygentoma. The name silverfish comes from the silver-grey color and the fish-like appearance of its movements. The scientific name (Lepisma Saccharina) indicates the silverfish's diet consisting of carbohydrates (sugar & starches).
These insects are nocturnal and typically grow to 15-25mm in length. Silverfish have two thin antennae and very small eyes. According to Cornell University, silverfish tend to live for one to eight years. Silverfish can cause moderate damage to homes due to where they feed. They typically live in dark, damp areas and migrate near their food sources which include glue, carpet, cereal, flour and starchy products. They prefer to hide in small crevices around the house, including openings of windows, shelves, corners and below floor boards. Although silverfish are considered pests and contaminate food, they do not transmit disease.

The images below of a silverfish were captured using the FZ6 stereo zoom microscope and the DCM5.2 microscope camera (5 megapixels).
Contact Microscope World
.