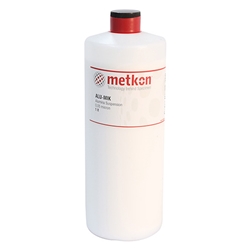 Metallurgical Sample Preparation Suspensions and Powders
Alumina powder produces a fine surface quickly due to the lack of aggregates. Alumina suspensions have been developed to give the operator easy to use pre-prepared polishing media. It requires no dilution with water and can be dispensed with Colloidal Silica.
Colloidal silica suspension is able to produce the ultimate in high quality mirror polishes on polishing machine. A part abrasive, part chemical polishing action makes colloidal silica well suited to polishing difficult materials such as Aluminium, Stelitte and Cobalt Chrome.